Earth Based Medicine

Take some time to connect to your Inner Wisdom and Strength, together we can reconnect for you through direct revelation.
Step into the Magic of your Life

Spiritual Consultations: A private consultation can be done on the phone or in person. Imagine you can connect to your wise adviser and hear the words of wisdom and clarity just for you! That is what a private Spiritual Consultation offers, as Therese channels the wisdom from your Spirit Helpers.

Medium: Connecting with loved ones can be healing and allow for forgiveness, closure and acceptance. I have been connecting for families since 1998 and I am amazed at the messages of love and healing a reading like this can offer.
Shamanic Healing: Shamanic healing is an ancient and powerful way to shift negative patterns and energy that may be inhibiting you from moving forward. These healing modalities are thousands of years old and can support your healed state. This may include Soul Retrieval, Chakra Cleansing, or releasing old patterns in your life. Shamanic healing works at an energetic level so you can release old stories.

Past Life Awareness: Through connecting with Spirit Therese can track your past lives, with the awareness of these life times we can work with Spirit to give us clarity on what karma or patterns we may have brought to this life time, working together Therese will support you in releasing the karma to move forward in this life
Consultations are all being done on the phone at this time Thank you
Investment for Sessions
Phone Session $120.0
in Person Session $150.00
~~~~~~~~~~~~~~~~~~~~~~~~~~~~~~~~~~~~~~~~~~~~~~~~~~~~~~~~~~~~~~~~~~~~~~~~~~~~~~~~~~~~~~~~~~~~~~~~~~~~~~~~~~~~~~~~
Wise Woman Journal 2022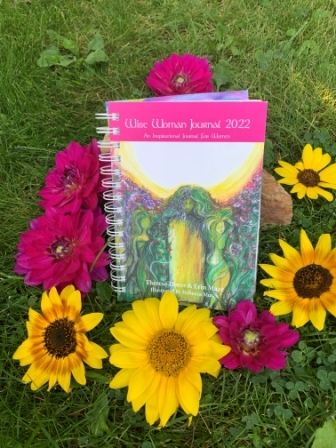 I am very excited to share the 2022 Wise Woman Journal
This beautiful, contemplative journal is designed to help you take personal time and rediscover your rich, inner wisdom. As you journey through 2022 with the Wise Woman Journal in your hand, we intend that you will feel a renewed connection to your inner wise woman and your own divinity. This journal filled, with vibrant original artwork, can support your inner journey and your outer one as well.
What's Inside
A year of shamanic training and journeys

Motivational channeled messages from Quan Yin, the Goddess of Mercy and Compassion

Monthly self-empowerment suggestions and empowerment prayers

40+ original spirit-gifted, high-vibrational works of art

Astrological information, the lunar cycle and how to work with this cycle for personal growth and abundance

Daily suggestions for personal transformation

Create a powerful crystal ally

Space to record each day of your journey for 2022

Month-at-a-glance calendar
To order your journal check out our web page www.threewisewomen.ca or Email us at This email address is being protected from spambots. You need JavaScript enabled to view it.